STEEL DOOR FRAME 2 INSTALLATION
STEP 1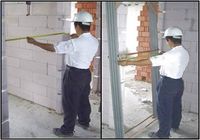 Confirm door location.
Verify that the dimension of the opening are as specified in the drawing.
STEP 2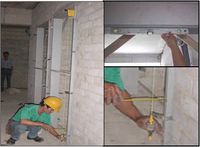 Align the door frame/sub-frame against the setting out lines, 1m datum line and level pegs.
Ensure proper alignment of the frame/sub-frame.
There should be sufficient gaps between the wall and door frame to receive wall finishes.
STEP 3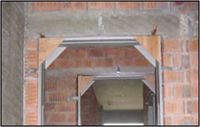 Secure the frame temporarily using timber wedges.
Adjust the position of the wedges to obtain the required vertical and horizontal alignment.
STEP 4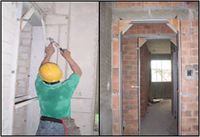 Then, fasten the frame in position using approved wall plugs or galvanized straps.
Use timber bracing to support and maintain the squareness of the frame.
STEP 5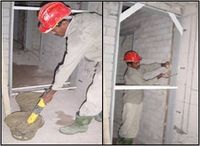 Grout the gap between the wall and door frame.
Provide timber strip to provide a firm backing during grouting to enhance the compactness of the grout.
STEP 6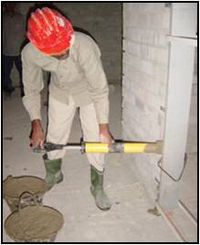 Ensure not to remove any props/bracing and wedges until grouting and plastering are fully cured.